Independent Senior Living
Looking for Independent Living? Wanting to find the senior living community that offers a variety of services and amenities that you would enjoy? Look no further than Sunridge Village in Omaha! Our 55+ retirement community offers resort style living at an affordable rent. Our monthly lease includes utilities, maintenance, housekeeping, dining options and much more. No more worries of property taxes, rising costs of utilities, and home projects.
We offer underground parking and courtesy transportation along with many other services. We know that when it comes to retirement, one size does not fit all, so we offer a variety of floorplans, services, and amenities to suit your needs.
With plenty of activities and events to keep you busy, we are sure you will love calling Sunridge Village your home. Our senior apartments will check all of your boxes when searching for retirement homes for independent living. Give us a call today! 402-496-0116.
Retire The House & Live Worry Free
Searching for a retirement community that offers a lock and leave level of independent living? If you're a winter "snow-bird" or like to visit family or travel, our independent senior living community is perfect for you! No more worries about home maintenance while you are gone or even watering your plants. Our 55+, senior living community is perfect for active adults that want to come and go as they please! You can live worry free!
Active Senior Living
Sunridge Village is an independent senior living community, conveniently located in a beautiful neighborhood in Northwest Omaha. Residents have easy access to shops, restaurants, golf courses, and other attractions.
You will love our active senior living community that is filled with residents who are young at heart. With plenty of social events and activities planned each month. Not only do we provide several on-site activities for our residents, but we also offer transportation for residents who cannot or prefer not to drive to various activities, appointments, or community outings.
Looking to stay indoors on bad weather days? Our Recreational coordinator provides games, activities, and cultural events that will keep you busy and having fun. Spend some time in our library, billiards room, or wellness center to keep your mind and body sharp. We encourage movement and exercise by offering a variety of workout classes for different levels of activity.
We continue to offer the highest quality of senior living that we can for the residents. Our recreational programs are a wonderful way to stay active and develop new interests as well as make new friendships. There is always something fun to do at Sunridge Village. Whether you are looking for an active lifestyle or more relaxed setting, Sunridge Village has something for everyone!
One- & Two-Bedroom Senior Apartments
We offer a variety of one and two-bedroom apartment floor plans to fit your needs. Our spacious apartments include full kitchens, washer and dryer hookups, and walk-in closets. All of the Sunridge Village apartments feature an emergency backup generator so if a power outage occurs, you will never be in the dark. In the privacy of your own apartment, welcome guests anytime and any additional services that you may want.
Call today and we can discuss how affordable independent living can be. Sunridge Village apartments offer with all the convenience and amenities that you look for in a 55+ retirement community!
55+ Independent Living Community
Sunridge Village offers all the amenities you could want, and more. You will find great value in our independent senior living community. We are locally owned and operated. We provide peace of mind with a safe and secure environment for years to come.
At Sunridge Village, we work with ALL in-home healthcare companies to ensure you have access to all the services you need to keep you active and healthy. We have everything you need to enjoy your retirement years. For more information about our active retirement communities or for a tour, please contact us today!
Services and Amenities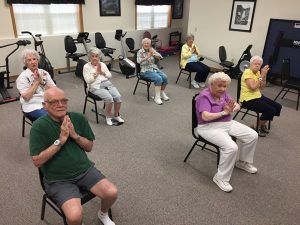 As active adults, we know the importance of having everything right where we need it. We try to make things as convenient as possible. As a resident, you will enjoy the convenience of restaurant-style dining, housekeeping, transportation services, and much more.
Sunridge Village independent living accommodations provide the following services and amenities:
• Underground Parking
• Full Kitchens & Walk-in Closets
• Storage Units
• Paid Utilities
• Free Laundry Facilities & Laundry Hook-up in Every Apartment
• 24/7 Security
• GPS Emergency Wrist Pendant
• Emergency Generator in Every Apartment in the Event of Power Outages
• Housekeeping Services
• Maintenance Services
• Beauty/Barber Shop (on-site)
• Wellness & Fitness Center with Fitness Classes
• Library & Computer Room
• Chef-Prepared Dining
• Flexible Dining
• Guest Apartment
• 7-Hole Putting Green
• Raised Bed Gardens
Your New Home and New Friends Await
55+ communities should be more than just a place to eat and sleep. They should be active retirement communities where you can make friends, stay involved, and follow the pursuits you never had time for. You'll feel right at home at Sunridge Village where you can enjoy active senior living in vibrant Northwest Omaha. Enjoy all the benefits of independent living that Sunridge Village has to offer!
Resort Style Independent Living
If you are looking for the freedoms of independent living without the complexities of homeownership then you've found the solution. Sunridge Village offers the resort style senior living right in the heart of Northwest Omaha. Here you will find a welcoming 55 plus community of residents that still feel young at heart. Those who are still filled with a passion for life will love the active lifestyle we offer.
Our Recreational Programs are a wonderful way to stay active and develop new interests as well as new friendships.
Not only do we provide several on-site services for our residents, but we also offer transportation services for residents who cannot or prefer not to drive to various activities, appointments, or events.
Make Sunridge Village Your New Home
We know these decisions are difficult. Whatever we can do to help you through the process, please let us now. We want Sunridge Village to be the right independent living community for you. From answering questions to information to a full on-site tour, we can make it happen.